BOYS' FOOTBALL NEWS

The Dartford schools football season is under way and Mr Hillier has very kindly offered to be the coach again this season and gives up his time every Thursday lunchtime to run a training session for the boys. The team had a very successful 2016/17 season reaching the semi finals in the Dartford Primary schools football league.

Our first competition was the Dartford FA annual tournament on Friday 6th October at Princes Park with over 20 schools taking part. We played against Maypole, Temple Hill and Sutton at Hone in our group and three schools finished in first place with the same points but Joydens Wood were the overall winners with more goals! We now go through to the Dartford finals on 17th October for a place in the Kent finals! Our team - Michael in goal, Frank, Dylan, Samson, Teddy, Billy, Jaron, Luke and Henry. Well done to all the players!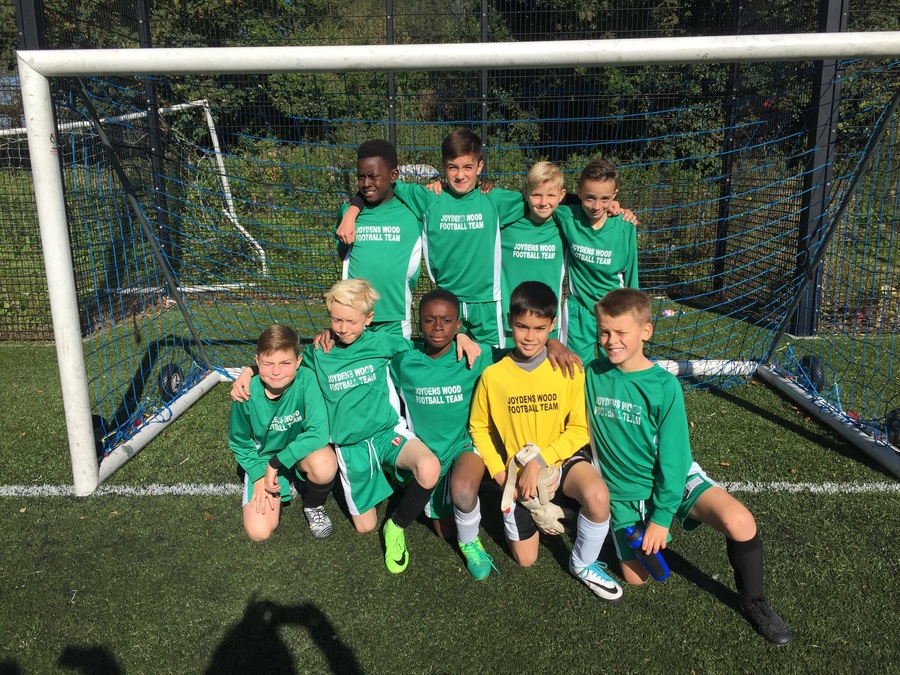 Dartford FA Boys' Final 17.10.17

After winning our group at the annual Dartford FA tournament, Joydens Wood went on to the finals on 17th October at Princes Park. We were in Group 1 with Craylands and West Hill. Each school played each other twice and the overall group winner played the runner up of Group 2 and the runner up of Group 1 played the winner of Group 2. We finished first so had to play Holy Trinity in the semi-finals. After full time it was a draw so it then went to penalties. It was tense for everyone - Holy Trinity had 8 players and had been through their whole team and it was still a draw! Fortunately, for us Michael saved an excellent shot and that was enough to put us through to the final against West Hill. They played really well, as did Joydens Wood, but again the score was a draw so again we had to go to penalties. After 2 each, we scored our 3rd but West Hill's was saved which made us the overall winner of the day and now we will represent Dartford in the Kent finals in November and received the huge cup by the manager of Dartford FC! Thanks to Mr Hillier for being such a great coach!

Our team - Michael, Frank, Luke, Samson, Marcel, Dylan, Teddy, Jaron, Billy and Henry.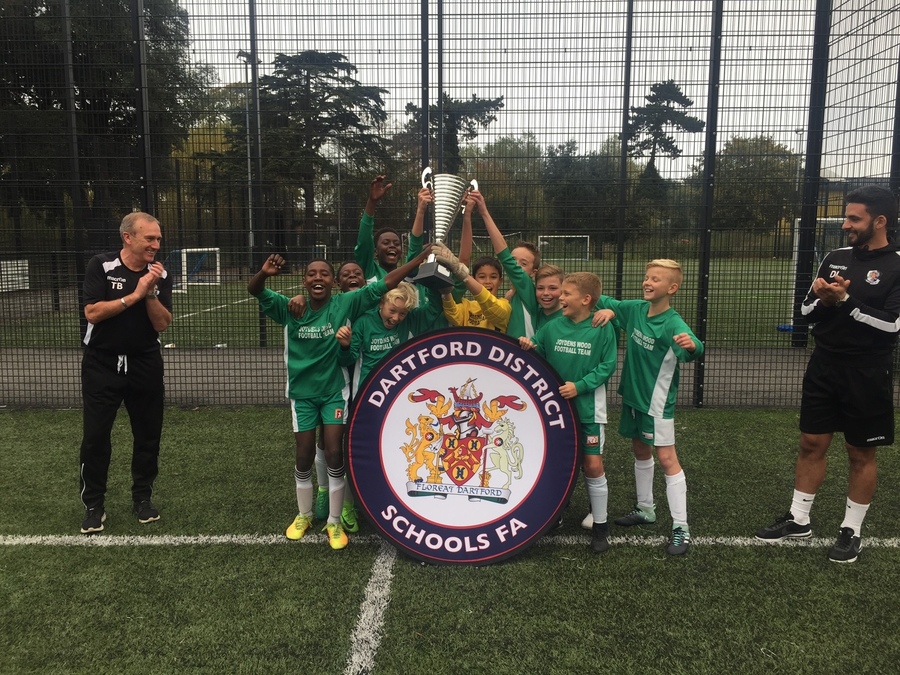 The groups for the new Dartford Primary Schools football league have been drawn and Joydens Wood are in the Blue League with Temple Hill, Oakfield, Wentworth, Stone St. Mary's, Knockhall, Manor and Dartford Primary. The league results will be available to view on this page.

We are also in the Dartford FA K/O cup and our first game is on Monday 16th October against Darenth Primary away.

Good luck to our boys this season!

Year 5 vs. Old Bexley Primary

Year 5 had their first friendly against Old Bexley on Wednesday 11th October at Hayden. It was the first time we have played this school. The boys (and Missi) were really excited and the teams were evenly matched. At half time it was 4-4 but Joydens Wood played exceptionally well in the second half scoring another 5 goals - the final result was 9-6 to us! Well done to Alex, Louie, Jake, Callum, Sam, Henry, Charlie, Sami, Ollie and Missi.