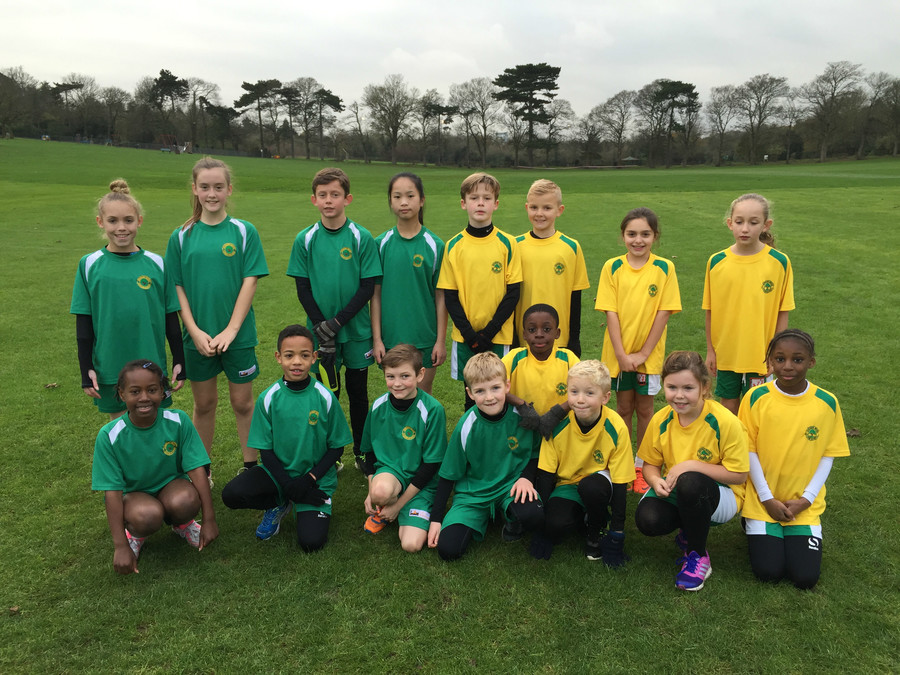 On Thursday 26th November the annual Dartford District Cross Country challenge took place at Oakfield Park. The venue had changed this year and when we arrived at the park the children thought the distance was longer!

There were 16 schools who took part with 16 children - 8 from Yr 3/4 and 8 from Yr 5/6. There were races for 3/4 girls, 3/4 boys, 5/6 girls and 5/6 boys - each with over 60 children competing. At the end of each race the children were given a finishing card and awarded points for their place.

All our children ran really well and we had many runners in the top 20. Sophie from Year 4 finished 3rd in her race and earned herself an individual bronze medal!

At the end of the competition all the points were totalled and we waited anxiously to find out where Joydens Wood had finished. They read the results in reverse order and we finished 3rd out of 16 schools . A fantastic achievement!

We are very proud of all our children who ran at the competition and thank you to the many parents who came to the event to support us!
MINI CROSS COUNTRY FOR YEAR 3/4
Joydens Wood were invited to take part in a mini cross country competition for Year 3/4, with Wilmington Primary, hosted by Hextable on Wednesday 25th May 2016. We took 24 children to the event - 6 boys and 6 girls from each year group. They had been practising for sports day and the class teachers had nominated the children as they had the fastest times!
The children walked around the course first so that they knew the distance they had to run - two laps of their school field seemed a long way!!
The first race began with Year 3 boys - Louie got off to a magnificent start and kept the lead all the way finishing 1st! The girls did well too with Catriona finishing 2nd. In the Year 4 girls race, out of the 18 runners, Joydens Wood took the first 5 places with Lily finishing 1st, Sophie 2nd and Isobel 3rd. In the Year 4 boys race Max finished 1st and Jack was 2nd!
Overall, all our teams won a medal and many of the children won individual medals as well for finishing in the top 3.
The children were fantastic and a credit to our school - thank you too to all the parents who came and supported us!